• Beth Behrs is an American actress best known for her role in the television sitcom, "2 Broke Girls."
• She attended the University of California, Los Angeles' School of Theater, Film, and Television and graduated with a Bachelor's degree in 2008.
• She married actor Michael Gladis in 2018.
• She founded the "SheHerdPower Foundation" to provide empowerment and reprogramming to sexual assault and abuse survivors.
• Her estimated net worth as of April 2020 is over $12 million.

Known for movies
Short Info
| | |
| --- | --- |
| Date Of Birth | December 26, 1985 |
| Fact | Played competitive soccer and traveled all over the East Coast in tournaments for 9 years. |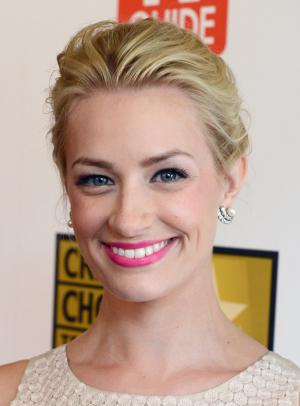 Beth Behrs is an American actress, whose ticket to fame was her role in the television sitcom, "2 Broke Girls."
Early Life and Family
Elizabeth Ann 'Beth' Behrs was born on 26 December 1985, in Lancaster, Pennsylvania, USA. Both of her parents work in education – her mother Maureen is a teacher, and her father, David Behrs, is the headmaster of a private school. She has a younger sister named Emily Jeanette Behrs. After four years, her parents decided to move to Lynchburg, Virginia, where the sisters were raised. When she was about 15 years old, the family moved again and settled permanently in Marin County, California.
Education
Beth attended E.C. Glass High School for her primary education, and matriculated from Tamalpais High School in 2004 where she was accepted into the school's highly regarded drama program. She went to the American Conservatory Theater in San Francisco to learn more about acting, and later on graduated with a Bachelor's degree in Film, Theatre, and Television Producing from the University of California, Los Angeles' School of Theater, Film, and Television in 2008.
Career
First Step
Even when she was still in college, she was able to get parts in regional theatre productions, such as the role of Sandy Dumbrowski in "Grease" shown in 2005 at the Ray of Light Theatre. She continued attending auditions even during her senior year.
Finally, she was able to get a lead role, and her first film set was in the movie, "American Pie Presents: The Book of Love," a spin-off from the successful "American Pie" franchise.
This was supposedly Beth's debut on the big screen, but for some reason, it ended up having a direct-to-DVD release in 2009.
Her next project was the independent film, "Adventures of Serial Buddies," which was a comedy loosely based on the director's own experience of having a friend who turned out to be a sociopath, and it was released in 2011 with Christopher Lloyd, Artie Lange and Henry Winkler; it was largely credited for having discovered Beth. She was also a part of another comedy independent film, "Route 30, Too!" which started filming in the latter part of 2010, in which she played an alien girl with Lee Wilkof and Curtis Armstrong, and was released in 2012.
Beth found her way onto television when she was auditioning in between filming for those independent films.
She started by making guest appearances in single episodes, playing minor roles in popular shows such as "NCIS, Los Angeles" with Chris O'Donnell and LL Cool J, "Castle" with Nathan Fillion and Stana Katic, and "Pretty Tough," which was a Hulu series.
Further Success
In 2011, she was offered a role in "2 Broke Girls," an American TV comedy series with Kat Dennings, Matthew Moy, and Jonathan Kite, and her popularity soared since then. Her role as Caroline Wesbox Channing, the daughter of a billionaire who became penniless after her rich father was caught and charged with operating a Ponzi scheme, was such a hit with the viewers. This show was filmed using a multi-camera and with a live audience, and aired on CBS for six seasons, gaining nominations from several award-giving bodies.
The show was broadcast in several countries such as Canada, United Kingdom, Republic of Ireland, and Australia, and also made its way into the homes in Asian countries such as Philippines and India.
Beth made movies in between filming the sitcom, and did voice-acting for the box office hit "Monsters University," produced by Pixar Animation Studios in 2013. She was also a part of "Chasing Eagle Rock" with Michael Welch and Erick Avari released in 2015, and in that same year started shooting the romantic-comedy film, "Hello, My Name is Doris," with Sally Field and Max Greenfield, released on 11 March 2016.
After the huge success of the TV sitcom, "2 Broke Girls," Beth was very picky on what to accept next, wanting it to have a social impact.
She appeared as a guest-star in various TV shows before finally accepting a lead role in another TV sitcom, "The Neighborhood," about a white family who transferred from the Mid-west to a predominantly Afro-American neighborhood in California. The pilot episode was aired in October of 2018 and the season 2 finale in April 2020 – there's no news of a renewal for the third season, due to the COVID-19 pandemic crisis.
Personal Life
After dating actor Michael Gladis for six years, Beth exchanged wedding vows with him on 21 July 2018 at the Moose Creek Ranch in Idaho – Michael had proposed to her on Geoffrey Arend and Christina Hendricks' rooftop during sunset, while a jazz band was playing her favorite songs. Beth shared that everything about her wedding day went according to plan and more,  saying during a guest appearance on the Ellen Degeneres' show that everything was perfect.
A herd of buffalos passed by when the couple was doing a photo shoot, a hummingbird appeared close to her when she was putting on her wedding dress with her mother, and a bee sat on her veil when she walked the aisle.
They don't have any children, and currently reside in Los Angeles, California.
Who is her husband, Michael Gladis?
Michael James Gladis was born on 30 August 1977, in Houston, Texas USA, but was raised by his parents in Farmington, Connecticut. His family was middle-class – his father was a state worker and a marketing executive. He matriculated from Farmington High School in 1995, and went to the State University of New York School (SUNY) of Art Design at Alfred University first before deciding to transfer to SUNY at New Paltz, graduating with a Bachelor's degree in Theatre in 1999.
He started his acting career in 2002 in the film "K19: The Widowmaker", and was involved in various movies but was not able to get notable roles; it was on television where his luck changed. After making various guest appearances in popular television series, in 2007 he was offered a part in the regular cast in the American period drama series "Mad Men," which aired from 2007 to 2015 on the AMC cable channel. Out of the seven seasons, Michael played the role of Paul Kinsey from seasons 1 to 3, with 38 episodes, including as a guest in some episodes in 2012.
He then appeared in several other TV series, the most notable being13 episodes in "Eagleheart" (2011- 2012), 13 episodes of "Reckless" (2014), and 10 episodes of "Feed The Beast" (2016).
Interesting Facts
Even after getting a lead role in "2 Broke Girls," Beth still went back to do nanny duties to pay the monthly rent of her tiny apartment, which she shared with her best friend.
Beth stayed there in a not-so-safe neighborhood during the first three seasons of her popular TV sitcom, for fear of being fired anytime. She heard break-in attempts in her apartment building, and underwent other stressors that most TV actors starring in lead roles didn't experience on a daily basis.
As a straight A-student and a self-confessed nerd, she was aghast that she received a C in her acting class at UCLA. She made the audience laugh when she accidentally fell down the stairs during a Tony Kushner play, and did it again and again just to make them laugh. She realized later on that her professor probably thought she didn't honor Tony Kushner's work. She eventually dropped the subject and focused on production.
She practically begged her parents not to send her to UCLA, as she was a huge fan of Broadway, and start an acting career in New York, so wanted to go to NYU, but she was wait-listed. Even at the young age of eight or nine, she asked her parents to accompany her to New York for auditions, but her parents didn't want her to be a child actor, but that she must get a college education first, and then decide what she wanted to do. She didn't like it then, but was later grateful that her parents forced her to get a college degree.
During an audition for a theater role in New York, Beth was advised by one of the writers of the iconic TV show, "Cheers," who was part of the theater production to go back to Los Angeles and try her luck on television instead. It's not because she lacked talent as she was classically trained as a singer, but she had natural comedic timing that would be a waste if she continued to pursue her Broadway dreams. Good thing she followed the advice, as she landed the Caroline Wesbox Channing role after that incident.
As a straight-A student, she was often kicked out of the room in high school for making people laugh endlessly. Even during those times when she wasn't the culprit or when she didn't do anything intentionally to make the class laugh, her teachers thought it was her or it was intentional. She later realized when she was already an adult that she was naturally funny, and that was her gift.
Beth suffers from panic attacks and severe anxiety issues for several years, and this was due to her being a perfectionist. She was able to manage it well through meditation and a healthy lifestyle.
Something went wrong with her immune system that a horrible skin rash appeared on her body, and she needed to cover herself up during red carpet and public events. It turned out that she was overworked, and wasn't eating properly.
She is active on social media such as Twitter, Instagram and Facebook.
Advocacy
In 2016, Beth along with Cassandra Ogier founded the "SheHerdPower Foundation", to provide Equine Guided Empowerment and Somatic Reprogramming to sexual assault and abuse survivors.
Appearance
She is 5ft 5ins (1.65m) tall, weighs around 116lbs (53kgs), and her vital statistics are 33-23-34. She is Caucasian with long blonde hair and blue eyes.
Net worth
Sources estimate her net worth to be over $12 million as of April 2020. She had been working in the entertainment business for 15 years now, and her biggest earnings have been from her stint in "2 Broke Girls" that lasted for six seasons, and from her current series, "The Neighborhood."
General Info
| | |
| --- | --- |
| Full Name | Beth Behrs |
| Date Of Birth | December 26, 1985 |
| Height | 1.65 m |
| Profession | Actor |
| Education | University of California, Los Angeles |
| Nationality | American |
Family
| | |
| --- | --- |
| Parents | Maureen Behrs, David Behrs |
| Siblings | Emily Jeannette Behrs |
Accomplishments
| | |
| --- | --- |
| Nominations | People's Choice Award for Favorite TV Gal Pals, Teen Choice Award for Choice TV: Breakout Star Female |
| Movies | Hello, My Name Is Doris, Chasing Eagle Rock, Serial Buddies, American Pie Presents: The Book of Love |
| TV Shows | 2 Broke Girls |
Social profile links
Quotes
| # | Quote |
| --- | --- |
| 1 | Comedy always pushes some buttons, because it wouldn't be comedy if it didn't. |
| 2 | I like diner coffee. |
| 3 | In today's world, most people are working side jobs while waiting to do what they really want to do. |
| 4 | Know who you are, because that's how you will be cast at first. Then you can be Meryl Streep further down the road. |
| 5 | My best girlfriends are the girls I went to college with at UCLA. |
| 6 | Women have been funny for years. |
| 7 | Always make sure you have your rent. At the end of the month, if you have to eat Ramen for a week because you won't have your rent money, just do it but make sure your rent is all there so you're not stressing about that. As long as you have your rent at least you have somewhere to live. |
Facts
| # | Fact |
| --- | --- |
| 1 | Is in a relationship with Michael Gladis since June 21, 2010. |
| 2 | Has a younger sister named Emily Behrs (b. April 4, 1992). |
| 3 | Is left-handed. |
| 4 | Is best friends with her 2 Broke Girls (2011) co-star, Kat Dennings. |
| 5 | Former nanny. |
| 6 | She is a graduate of the UCLA School of Film and Television. |
| 7 | Played competitive soccer and traveled all over the East Coast in tournaments for 9 years. |
| 8 | A classically trained singer. |
Pictures
Movies
Actress
| Title | Year | Status | Character |
| --- | --- | --- | --- |
| 2 Broke Girls | 2011-2017 | TV Series | Caroline Channing |
| The Call Room | 2016 | TV Series | Jeannie (voice) |
| Chasing Eagle Rock | 2015 | | Deborah |
| Hello, My Name Is Doris | 2015 | | Brooklyn |
| Judy Greer Is the Best Friend | 2014 | Short | Sarah |
| Monsters University | 2013 | | PNK Carrie (voice) |
| So You Think You Can Prance | 2013 | Short | Joanna |
| Lady Antebellum: Downtown | 2013 | Video short | Hillary's Friend |
| Route 30, Too! | 2012 | | Aliengirl |
| The Argument with Beth Behrs & Michael Gladis | 2012 | Short | Beth Behrs |
| Adventures of Serial Buddies | 2011 | | Brittany |
| Pretty Tough | 2011 | TV Series | Regen |
| Starf*ckers | 2011 | TV Series short | Cater Waitress |
| Castle | 2011 | TV Series | Ginger |
| NCIS: Los Angeles | 2010 | TV Series | Female Caroler |
| American Pie Presents: The Book of Love | 2009 | Video | Heidi |
Soundtrack
| Title | Year | Status | Character |
| --- | --- | --- | --- |
| 2 Broke Girls | 2011-2015 | TV Series performer - 3 episodes | |
| Hello, My Name Is Doris | 2015 | performer: "Anything Was Possible" | |
Self
| Title | Year | Status | Character |
| --- | --- | --- | --- |
| Rachael Ray | 2014-2017 | TV Series | Herself |
| Late Night with Seth Meyers | 2016-2017 | TV Series | Herself |
| The Chew | 2017 | TV Series | Herself - Guest |
| Live with Kelly and Ryan | 2012-2017 | TV Series | Herself - Guest / Herself - Guest Co-Hostess / Herself / ... |
| The Ellen DeGeneres Show | 2013-2017 | TV Series | Herself - Guest / Herself |
| The Late Late Show with James Corden | 2015-2016 | TV Series | Herself |
| Extra | 2015 | TV Series | Herself |
| Ok! TV | 2015 | TV Series | Herself |
| The Tonight Show Starring Jimmy Fallon | 2014-2015 | TV Series | Herself |
| Live from the Red Carpet: The 2015 Tony Awards | 2015 | TV Movie | Herself |
| 50th Annual Academy of Country Music Awards | 2015 | TV Special | Herself |
| Repeat After Me | 2015 | TV Series | Herself |
| The Late Late Show with Craig Ferguson | 2011-2015 | TV Series | Herself - Guest / Herself |
| The World Dog Awards | 2015 | TV Special | Herself |
| The 41st Annual People's Choice Awards | 2015 | TV Special | Herself |
| CBS This Morning | 2014 | TV Series | Herself - 2 Broke Girls |
| Entertainment Tonight | 2014 | TV Series | Herself / Herself - 2 Broke Girls |
| The 68th Annual Tony Awards | 2014 | TV Special | Herself |
| 2014 CMT Music Awards | 2014 | TV Special | Herself |
| Hollywood Game Night | 2014 | TV Series | Herself - Celebrity Guest |
| The 40th Annual People's Choice Awards | 2014 | TV Special | Herself - Host |
| The Queen Latifah Show | 2014 | TV Series | Herself - Guest |
| Conan | 2012-2014 | TV Series | Herself - Guest |
| 2 Broke Girls: Cast and Creators Live at Paleyfest | 2013 | Video | Herself |
| Women We Love | 2013 | TV Movie documentary | Herself |
| The Arsenio Hall Show | 2013 | TV Series | Herself |
| The 67th Annual Tony Awards | 2013 | TV Special documentary | Herself (uncredited) |
| 48th Annual Academy of Country Music Awards | 2013 | TV Special | Herself |
| It's a Brad Brad World | 2013 | TV Series | Herself |
| The 55th Annual Grammy Awards | 2013 | TV Special | Herself (uncredited) |
| The Talk | 2011-2013 | TV Series | Herself - Guest |
| The 66th Annual Tony Awards | 2012 | TV Special documentary | Herself |
| Late Show with David Letterman | 2012 | TV Series | Herself - Guest |
| 47th Annual Academy of Country Music Awards | 2012 | TV Special | Herself |
| The 38th Annual People's Choice Awards | 2012 | TV Special | Herself |
| Up Close with Carrie Keagan | 2009 | TV Series | Herself |
| Deep Inside | 2009 | TV Series | Herself |
Archive Footage
| Title | Year | Status | Character |
| --- | --- | --- | --- |
| Live with Kelly and Ryan | 2017 | TV Series | Herself |
| Chelsea Lately | 2013 | TV Series | Caroline Channing in '2 Broke Girls' |
Awards
Nominated Awards
| Year | Award | Ceremony | Nomination | Movie |
| --- | --- | --- | --- | --- |
| 2014 | People's Choice Award | People's Choice Awards, USA | Favorite TV Gal Pals | 2 Broke Girls (2011) |
| 2012 | Teen Choice Award | Teen Choice Awards | Choice TV Breakout Performance - Female | 2 Broke Girls (2011) |
Source:
IMDb
,
Wikipedia