• Amy Marie Yasbeck was born in Blue Ash, Ohio USA and grew up in the Cincinnati suburb.
• She made her film debut in 1985 and had a regular role in the drama series "Days of Our Lives".
• She had big-screen roles in "Pretty Woman", "Problem Child", and "The Mask".
• She married actor John Ritter in 1999 and they welcomed their child, Stella Ritter.
• Her net worth as of early 2020 is estimated at around $12 million.

Known for movies
Short Info
| | |
| --- | --- |
| Date Of Birth | September 12, 1962 |
| Spouse | John Ritter |
| Mark | Long red hair |
| Fact | Stepmother of Jason Ritter (born on February 17, 1980), Carly Ritter (born on March 1, 1982), Tyler Ritter (born in 1984). |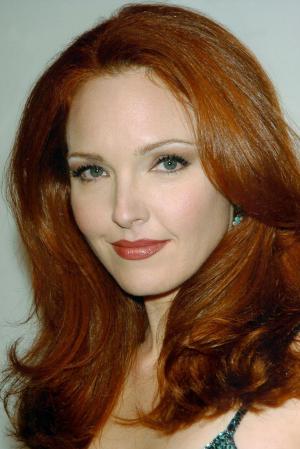 Introduction
This redhead actress is mostly known for her roles in the films "Pretty Woman" and "Problem Child". However, most people don't know that Amy Yasbeck's life hasn't been easy. Where did she grow-up, and what happened to her husband?
Early life and Education
Amy Marie Yasbeck was born on 12 September 1962, in Blue Ash, Ohio USA, and grew-up in the Cincinnati suburb with her parents, Dorothy Loise Mary and John Anthony Yasbeck, who was a butcher and an owner of a grocery store. Through her father she has Lebanese ancestry, and through her mother she is of Irish descent. Even as a child, she was under the spotlight, as she was featured on the "Betty Crocker Easy-Bake Oven" package art.
She spent her first several years at Catholic schools, Ursuline Academy and Summit Country Day School. After matriculation, she enrolled at the University of Detroit, where she took acting classes. When she was around 20 years old she lost her father to a heart attack, and soon after her mother died from chronic obstructive pulmonary disease. After their deaths, she relocated to New York, so that she could pursue a career in acting.
Career
Yasbeck made her film debut in 1985, when she appeared in the TV movie "Rockhopper". Two years later, she was cast in several TV series, most notably she had a guest appearance as Margo in an episode of "Spies", and landed a regular role in the drama series "Days of Our Lives", in which she portrayed Olivia Reed.
That same year, she was a guest character in many other TV series, such as "Werewolf', "J. J. Starbuck", and "Dallas".
In 1988 she continued with her TV series roles. -She was a recurring character in "Magnum, P. I.", portraying Diana in four of the show's episodes, and had a guest role in "Generations". In the following year, she was in two TV movies, "Little White Lies" and "Trenchcoat in Paradise", and was also a guest in an episode of "Dragnet", in which she played Allison Warner. In 1990, Yasback had a small part in a worldwide popular romance movie starring Richard Gere and Julia Roberts, "Pretty Woman", portrayed Elizabeth Stuckey, the snobby and sarcastic wife of Phillip Stuckey, who was played by Jason Alexander.
That same year, Yasbeck had another big-screen role, this time in Dennis Dugan's movie "Problem Child", a role she reprised in 1991 in the movie's sequel, "Problem Child 2", joined by John Ritter.
In the following years, Yasbeck had small roles in several TV series, such as "Designing Women", "Get a Life", "Quantum Leap" and "Diagnosis Murder". She played the love interest of the main character in "Robin Hood: Men in Tights" that premiered in 1993, and in 1994  was co-starred as Casey Chapel Davenport in a David Lee sitcom, "Wings" – she first appeared in the third season and remained on the set until the show ended in 1997.
In 1994 she landed a role in the comedy film "The Mask", co-starring alongside Jim Carrey, Cameron Diaz and Peter Riegert.
This movie helped her to become a more prominent face in Hollywood, and so in the next few years she appeared in big movies such as "Dracula: Dead and Loving It", playing the reincarnation of Dracula's love interest, Mina, "Home for the Holidays", "Up Above the World" and "The Odd Couple II". In 1997 she co-starred as Renee in Carol Leifer's short-lasting TV series "Alright Already".
For several years Yasbeck went quiet and could only be seen in support roles in several TV shows and short movies. However, she made her comeback in 2005, when she once again landed a co-starring role, this time as Michelle Lackerson in the first season of "Life on a Stick", a TV series about two teenagers who are trying to find their place in life.
In 2006, she appeared in the episode "The Ice Girl Cometh" of Disney Channel's "That's So Raven", playing the character named Joni Daniels. During the middle of the 2000s, Yasbeck was a part of "Shorty McShorts' Shorts", "Hot in Cleveland" and "Worst Week".
Yasbeck starred in the 2012 comedy movie "Little Women, Big Cars", as a character named Meg. Later that year, she portrayed Sylvia in the television movie "The 4 to 9ers". She also had guest roles in three big television sitcoms – "Modern Family", "Bones" and "Pretty Little Liars".
As of April 2020, Yasbeck hasn't been seen on television since 2016. It isn't known if she plans to return to acting, or if she has taken a different career path.
Personal Life
Yasbeck first met actor John Ritter when they were together in a 1990 episode of "The Cosby Show", but they were connected during filming the movie "Problem Child 2". The actor is known for his roles in movies such as "Sling Blade", "Bad Santa" and "Man of the Year". Ritter was 14 years her senior, but this didn't stop the two from starting a relationship. They welcomed their child, Stella Ritter, even years later, and married in 1999 at the Murphy Theater, located in Wilmington, Ohio US. On their wedding day, the marquee in front of the theater simply stated: "Congratulations John and Amy".
Her husband fell unconscious on September 11, during a rehearsal for his next sitcom, "8 Simple Rules for Dating My Teenage Daughter". He fell into a coma, and despite immediately being taken to the hospital, he passed away that same night.
The cause of death was first thought to be a heart attack but was later confirmed to have been an aortic dissection that was caused by a congenital heart defect which was undiagnosed. After her husband's death, Yasbeck filed a wrongful death lawsuit and asked for a $67 million payment from Providence Saint Joseph Medical Center, claiming that the doctors and nurses who worked there misdiagnosed Ritter and thus lead to his death. In the end, she and several of the defendants settled for a sum of $14 million,however, in March 2008, the jury cleared the doctors of any wrongdoing.
In 2010, Yasbeck wrote a book that described her life with her late husband, called "With Love and Laughter , John Ritter". She feels connected with September, as that was the month almost everyone in her family was born. She was born on the 12th, her daughter on the 11th and her late husband on the 17th.
Yasbeck's daughter, Stella Ritter, came out of the closet when she was 18, and said that she was born in the wrong body. She had support from her mother, and changed her name to Noah Lee Ritter and her gender to male. The transition process was kept hidden from the public for a long time.
Net Worth
Yasbeck is a successful TV and film actress, and has earned a nice income from her career, and her net worth as of early 2020 is estimated at around $12 million! As for her assets, she owned a big mansion in Beverly Hills, California US, that she shared with John Ritter that she eventually sold for $6.55 million.
Physical characteristics
Yasbeck's most notable features are her red hair and bright blue eyes. She stands at a height of 5ft 7ins (1.70 m) tall, and weighs around 120lbs (54kgs), with body measurements of 35-25-36. She has an hourglass figure, and is usually seen wearing elegant dresses.
General Info
| | |
| --- | --- |
| Full Name | Amy Yasbeck |
| Date Of Birth | September 12, 1962 |
| Height | 1.7 m |
| Profession | Actor |
| Education | University of Detroit Mercy |
| Nationality | American |
Family
| | |
| --- | --- |
| Spouse | John Ritter |
| Children | Stella Ritter |
| Parents | Dorothy Murphy, John Yasbeck |
Accomplishments
| | |
| --- | --- |
| Movies | Problem Child, The Mask, Problem Child 2, Robin Hood: Men in Tights, Dracula: Dead and Loving It, Pretty Woman, Splash, Too, House II: The Second Story, The Nutt House, Home for the Holidays, Denial, The Odd Couple II, Dead Husbands, Sweet Dreams, Trenchcoat in Paradise, House Blend, Poochinski, Dil... |
| TV Shows | Life on a Stick, Alright Already, Wings, Generations |
Social profile links
Marks
| # | Marks / Signs |
| --- | --- |
| 1 | Long red hair |
Quotes
| # | Quote |
| --- | --- |
| 1 | I've started the John Ritter Foundation for Aortic Health. The big focus is helping people get the correct diagnoses. |
| 2 | I certainly wouldn't want to be the man who was compared to John Ritter through my eyes. |
| 3 | I have a whole collection of angels and cherubs and dragonfly jewelry. Whenever somebody gives me a gift, it has wings. |
| 4 | On her part in the sitcom Wings (1990): I cried like Miss America when I got the part. |
| 5 | I have a, you know, a John Ritter-shaped hole in my heart. Nobody can replace that. |
| 6 | "After you play husband and wife on camera multiple times, it becomes easy to be husband and wife off camera as well." -About her relationship and marriage to the late John Ritter. |
Facts
| # | Fact |
| --- | --- |
| 1 | Friends with Steven Weber. |
| 2 | Release of her book, "With Love and Laughter, John Ritter". [September 2010] |
| 3 | Daughter Stella Ritter was born one day before her 36th birthday. |
| 4 | Studied theater at the University of Detroit. |
| 5 | Married John Ritter at the Murphy Theater, Wilmington, Ohio, the same theater used for the movie-watching scene (and external scene outside the theater) in the movie, Lost in Yonkers (1993). On the date of their marriage, the marquee outside the Murphy Theater said simply, "Congratulations John and Amy". |
| 6 | Amy and John Ritter were seen as a married couple having a baby on the 1991 The Cosby Show (1984) episode, The Cosby Show: Total Control (1991). |
| 7 | Stepmother of Jason Ritter (born on February 17, 1980), Carly Ritter (born on March 1, 1982), Tyler Ritter (born in 1984). |
| 8 | The month of September is related to all the members of her family. Amy was born on the 12. Her husband was born on the 17th and died on the 11th. Her daughter was born on the 11th. Amy was married on the 18th. |
| 9 | Her late husband, John Ritter, died on their daughter Stella Ritter's fifth birthday, and a day before Amy's 41st birthday. |
| 10 | She moved to New York after losing both of her parents - her father from a heart attack and her mom from emphysema. |
| 11 | She spent her elementary, middle and high school years at two different Catholic schools: Summit Country Day School and Ursuline Academy. |
| 12 | She first met John Ritter at director Dennis Dugan's house during a read-through of Problem Child (1990) in 1989. She said he forced her to eat a bagel and cream cheese because he thought she was too thin. He also thought she was too young to play his wife. |
| 13 | Her father was of Lebanese descent and her mother was of Irish ancestry. |
| 14 | Starred with her husband, John Ritter, in The Cosby Show (1984) episode, The Cosby Show: Total Control (1991), 8 years prior to their marriage. |
| 15 | As a child, Yasbeck was featured on the cover of the Betty Crocker Easy Bake Oven. She was recently presented with a new Easy Bake Oven on the show I've Got a Secret (2000) for which she is a regular panel member. |
| 16 | Daughter, with John Ritter, Stella Ritter, was born. [September 1998] |
Pictures
Movies
Actress
| Title | Year | Status | Character |
| --- | --- | --- | --- |
| Pretty Little Liars | 2016 | TV Series | Claudia |
| Workaholics | 2015 | TV Series | Annette |
| Modern Family | 2013 | TV Series | Lorraine |
| Bones | 2013 | TV Series | Diana Malkin |
| The 4 to 9ers | 2012 | TV Movie | Sylvia |
| Little Women, Big Cars 2 | 2012 | TV Series | Meg |
| Little Women, Big Cars | 2012 | | Meg |
| Royal Reunion | 2011 | Short | |
| Hot in Cleveland | 2010 | TV Series | Hailey Nash |
| Worst Week | 2009 | TV Series | Toni |
| Shorty McShorts' Shorts | 2007 | TV Series | Danielle |
| That's So Raven | 2006 | TV Series | Joni Daniels |
| Life on a Stick | 2005 | TV Series | Michelle Lackerson |
| Untitled Phil Hendrie Project | 2004 | TV Movie voice | |
| Just Shoot Me! | 2003 | TV Series | Skyler |
| House Blend | 2002 | TV Movie | Sally Harper |
| It's Like, You Know... | 1999 | TV Series | Karen |
| Dead Husbands | 1998 | TV Movie | Betty Lancing |
| Denial | 1998/II | | Claudia |
| Alright Already | 1997-1998 | TV Series | Renee |
| The Odd Couple II | 1998 | | Stewardess |
| Up Above the World | 1997 | | |
| Wings | 1994-1997 | TV Series | Casey Chapel Davenport |
| Sweet Dreams | 1996 | TV Movie | Laura Renault |
| Bloodhounds II | 1996 | TV Movie | Sharon |
| Dracula: Dead and Loving It | 1995 | | Mina |
| Home for the Holidays | 1995 | | Ginny Johnson Drewer |
| Platypus Man | 1995 | TV Series | Wendy |
| The Mask | 1994 | | Peggy Brandt |
| Dave's World | 1994 | TV Series | Julie |
| Diagnosis Murder | 1994 | TV Series | Karen Davis |
| Robin Hood: Men in Tights | 1993 | | Marian |
| Street Justice | 1993 | TV Series | Nancy |
| Matlock | 1990-1993 | TV Series | Cheryl Atkinson / Model Lauren Chadwick |
| The Nutt House | 1992 | | Diane Nutt |
| Quantum Leap | 1992 | TV Series | Frankie Washarskie |
| Designing Women | 1992 | TV Series | Tiffany |
| Get a Life | 1992 | TV Series | Evelyn |
| Problem Child 2 | 1991 | | Annie Young |
| The Cosby Show | 1991 | TV Series | Alicia Evans |
| Dillinger | 1991 | TV Movie | Elaine |
| Murder, She Wrote | 1991 | TV Series | Connie Canzinaro |
| Problem Child | 1990 | | Flo |
| Poochinski | 1990 | TV Short | Frannie Reynolds |
| Midnight Caller | 1990 | TV Series | Mary Lou Harper |
| Pretty Woman | 1990 | | Elizabeth Stuckey |
| Little White Lies | 1989 | TV Movie | Vicki |
| Dragnet | 1989 | TV Series | Allison Warner |
| Trenchcoat in Paradise | 1989 | TV Movie | Nan Thompson |
| Generations | 1989 | TV Series | Carla (1989) |
| Murphy Brown | 1989 | TV Series | Young Lady in Bar |
| Magnum, P.I. | 1987-1988 | TV Series | Diana / Diane |
| Splash, Too | 1988 | TV Movie | Madison Bauer |
| Walt Disney's Wonderful World of Color | 1988 | TV Series | Madison |
| China Beach | 1988 | TV Series | Airplane Stewardess |
| J.J. Starbuck | 1987 | TV Series | Doreen |
| Werewolf | 1987 | TV Series | Deidra |
| House II: The Second Story | 1987 | | Lana |
| Spies | 1987 | TV Series | Margo |
| Days of Our Lives | 1987 | TV Series | Olivia Reed |
| Dallas | 1987 | TV Series | Mary Elizabeth |
| Rockhopper | 1985 | TV Movie | Sonia Petrova |
Self
| Title | Year | Status | Character |
| --- | --- | --- | --- |
| Good Day L.A. | 2013-2014 | TV Series | Herself |
| Hollywood Today | 2013 | TV Series | Herself |
| AFI Life Achievement Award: A Tribute to Mel Brooks | 2013 | TV Movie | Herself - In Attendance (uncredited) |
| Hollywood Uncensored with Sam Rubin | 2012 | TV Series | Herself |
| The Talk | 2010 | TV Series | Herself |
| Are You Smarter Than a 5th Grader? | 2010 | TV Series | Herself - Contestant |
| Rachael Ray | 2010 | TV Series | Herself |
| The View | 2005-2010 | TV Series | Herself |
| Entertainment Tonight | 2008-2010 | TV Series | Herself |
| Larry King Live | 2008 | TV Series | Herself |
| Access Hollywood | 2008 | TV Series | Herself |
| Today | 2008 | TV Series | Herself |
| The Late Late Show with Craig Ferguson | 2005-2007 | TV Series | Herself |
| E! True Hollywood Story | 2005 | TV Series documentary | Herself |
| Good Day Live | 2004-2005 | TV Series | Herself |
| Only in LA | 2005 | TV Series | Herself |
| American Idol | 2004 | TV Series | Herself - Audience Member |
| The 29th Annual People's Choice Awards | 2003 | TV Special | Herself |
| 20/20 | 2003 | TV Series documentary | Herself |
| Hollywood Squares | 2002-2003 | TV Series | Herself |
| Biography | 2002 | TV Series documentary | Herself |
| I've Got a Secret | 2000 | TV Series | Herself |
| The Single Guy | 1997 | TV Series | Herself |
| Sex, Censorship and the Silver Screen | 1996 | TV Series documentary | Quote Reader |
| Lauren Hutton and... | 1995 | TV Series | Herself |
| Late Night with Conan O'Brien | 1995 | TV Series | Herself |
| The Tonight Show Starring Johnny Carson | 1990 | TV Series | Herself |
Archive Footage
| Title | Year | Status | Character |
| --- | --- | --- | --- |
| 5 Second Movies | 2008 | TV Series | Peggy Brandt |
| Matlock | 1993 | TV Series | Model Lauren Chadwick |
Source:
IMDb
,
Wikipedia