• Paul Teutul Junior was born in 1974 in New York, USA to a family of mixed German, Italian and Austrian ancestry.
• He worked hard to establish himself in his father's company, and eventually became the head of the railing shop.
• He and his father started Orange County Choppers in 1999, and the success of the business inspired the Discovery Channel show "American Chopper".
• In 2010, Paul left his father's business to start his own company, Paul Jnr Designs, and wrote a book "The Build: Designing My Life of Choppers, Family, and Faith".
• As of mid-2020, Paul Jnr has a net worth estimated at over $2 million.

Known for movies
Short Info
| | |
| --- | --- |
| Date Of Birth | October 2, 1974 |
| Spouse | Rachael Biester |
| Fact | He has a fascination with spider webs, he believes that they are very beautiful and are almost all negative shapes, he believes this to be something that stems from his childhood |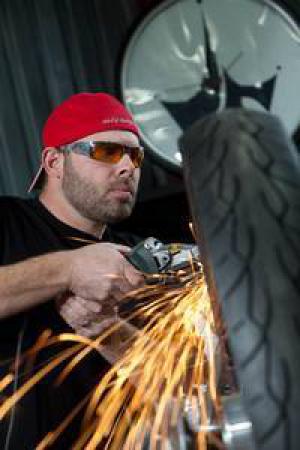 Originally a star on "American Chopper", Paul Teutul Junior was the mastermind behind some of the most recognizable motorcycles sold in his father's shop. However, those days are over, after an explosive fallout with his father. Paul has gone on to pioneer his own company, in direct competition with the family business. His name is frequently featured in the newsfeed, and not always for positive reasons. Despite the growing success of his new venture, Paul Teutul Junior is in constant flux with the law – a fact that has greatly disappointed fans of the Discovery Channel Show.
Early Life and Family
Paul Michael Teutul Junior was born on 2 October 1974, in New York, USA, to Paul John Senior and Paulie Teutul, of mixed German, Italian and Austrian ancestry. Although his parents would later divorce, Paul has three younger siblings, brothers Daniel and Michael still work in the family business, while the youngest, his sister Cristin, works as a nurse. Extremely creative from a young age, Paul Jnr began his apprenticeship at his father's steel company when he was only 12 years old. He quickly became acquainted with the equipment, and found that he had a mind for mechanics. Before long he was designing and fabricating motorcycles.
Education
While most of his skills were developed in his father's factory, Paul also got involved in school programs to assist him in honing his abilities. One such program was the Board of Co-operative Educational Services which catered to his out-of-the-box creativity and ability. In fact, it was Paul's prowess that served as the stimulus for his father to even consider opening a motorcycle manufacturing company of their own.
Career
Family Business
When he matriculated, Paul Jnr knew exactly where to go and where his heart lay, which was in the Orange County Ironwork, the company that his father had established, and allowed him to apprentice in during his childhood.
If he was expecting favoritism because of his family connection, he was to be disappointed. Paul Jnr worked exceptionally hard to establish himself in his father's company, and was eventually appointed as the head of the railing shop.
During the later years of the company, Paul Snr began to experiment with building motorcycles in his spare time. Sensing his son's ability and passion for the task, the two established Orange County Choppers in 1999. The company would allow them the design and sell motorcycles with their signature chopper-style and quality, and would go on to be a huge success.
"American Chopper"
"American Chopper" was a show sculpted completely around the drama and innovation of Orange County Choppers.
While many docuseries are criticized for being overly scripted and having tension synthesized for excitement, the tension in "American Chopper" was genuine. Part of the allure of the show was the opposing ideals and design styles of Paul Snr and Paul Jnr, but that opposition became all too real when the two had a massive fight in 2008, and Paul Jnr was fired.
Although Paul would have liked nothing better than to wash his hands of the whole affair, the network threatened to end the show if he didn't return, so he reappeared at Orange County Choppers as a contractor. However, the tension was too great, and he officially terminated his affiliation with the business in 2009.
There was a brief spin-off from the show when he later started his own company, but he eventually cut ties with Discovery Channel, and then from TLC when the show moved over.
Paul Jnr Designs
Eager to eliminate any former affiliation with the family Orange County Choppers business, Paul was ready to start his own company in 2010, as soon as the one-year non-compete clause expired. Paul Jnr Designs had its eye on more than just motorcycles, but this quickly became the companies focus. Paul had no qualms about openly challenging his father's business, promising to provide better quality and design for lower, more affordable prices.
The company sells bikes almost exclusively, with some branded clothing and other equipment. It was while he was running Paul Jnr Designs that he wrote his biography, "The Build: Designing My Life of Choppers, Family, and Faith". The book is a call to action, a call to embrace one's god-given talents, and pave the way to success.
Personal Life
Family
Due to the inextricable nature of business and family, Paul Jnr's relationship with his family is extremely tenuous and fraught with friction. His animosity towards his father has spilled over to the rest of the family, and he has much more to do with their lawyers than he does with them
However, Paul Jnr has created a family of his own.
Prior to their wedding, Paul Jnr and Rachael Biestar were featured on the TLC show, "Say Yes to the Dress!", in which Rachael was able to choose a wedding dress in one of the most famous boutiques in New York. The two were married on 20 August 2010, and welcomed a son, Hudson Seven Teutul, five years later, on 3 February 2015.
Lawsuits
The first lawsuit was filed in 2005 against Paul Jnr, but also his father and his brother Michael, filed by his father's business partner who had funded "American Choppers". Tom Derbyshire revealed that after he had funded the show Paul Snr manipulated the paperwork so that he would receive none of his shares.
This lawsuit endured for years, and ended in 2018 with Paul Snr out of business and declaring bankruptcy.
Perhaps the more famous of the lawsuits was filed by Paul Snr against his son in 2010, demanding that Paul Snr buy out Paul Jnr's 20% stake in the business. The lawsuit triggered a mass of legal proceedings, with Paul Jnr winning a lower court verdict that he did not have to sell out his shares, instead of waiting for a reasonable price to be greed. In retaliation to his father's lawsuit, Paul Jnr filed another lawsuit, seeking $100 million in damages, and accusing his father of major fraud. There have been various other legal altercations over the years, but these remain the most prominent of the cases.
An update on #TheNextAmericanInnovator. Be sure to sign up for our newsletter to get information on how/when to vote for the winner, what the category will be next, etc. (Go here: https://t.co/w9RqNey6ZN) pic.twitter.com/MT0NaWO6li

— Paul Jr (@WhereIsPaulJr) August 28, 2020
Appearance
Paul Teutul Jnr has brown hair and eyes and a bulky appearance. Although his hairstyle fluctuates, he seems to prefer a close cut, and a stubble beard. Paul Jnr's mixed heritage contributes to his unique appearance. Paul Jnr is 6ft (1.83m) tall and weighs about 170lbs (77kgs).
Net Worth and Salary
Having long since left his days of reality TV behind him, Paul is fully committed to the success of Paul Jnr Designs. No matter whose side you take in the narrative, it is impossible to deny that fame has an irresistible allure, a fact upon which he has capitalized, branding and distributing merchandise to spread his message. Although it is unknown what he was paid for his book deal, the sensationalism around his story puts the possibilities in the higher realms. As of mid-2020, Paul Jnr has a net worth estimated at over $2 million.
General Info
| | |
| --- | --- |
| Full Name | Paul Teutul Jr. |
| Date Of Birth | October 2, 1974 |
| Height | 1.77 m |
| Profession | Television producer, Motorcycle Builder, Actor, Businessperson, Designer |
| Nationality | American |
Family
| | |
| --- | --- |
| Spouse | Rachael Biester |
| Children | Hudson Seven Teutul |
| Parents | Paula Teutul, Paul Teutul Sr. |
| Siblings | Michael Teutul, Daniel Teutul, Cristin Teutul |
Accomplishments
| | |
| --- | --- |
| Awards | ASTRA Awards for Favourite International Personality or Actor |
| Movies | Wild Hogs |
| TV Shows | American Chopper, American Chopper: Senior vs. Junior |
Social profile links
Facts
| # | Fact |
| --- | --- |
| 1 | He has a fascination with spider webs, he believes that they are very beautiful and are almost all negative shapes, he believes this to be something that stems from his childhood |
| 2 | Brother of Michael Teutul, Daniel Teutel and Cristin Teutel |
| 3 | Son of Paul Teutul Sr.. |
Pictures
Movies
Producer
| Title | Year | Status | Character |
| --- | --- | --- | --- |
| American Chopper: The Series | 2009-2010 | TV Series producer - 25 episodes | |
Actor
| Title | Year | Status | Character |
| --- | --- | --- | --- |
| American Chopper: Senior vs. Junior | 2010 | TV Series | Son |
| My Name Is Earl | 2008 | TV Series | Paulie Jr. |
| Wild Hogs | 2007 | | Mike |
Self
| Title | Year | Status | Character |
| --- | --- | --- | --- |
| Mobster Movie | | pre-production | Himself |
| Chasing Classic Cars | 2016 | TV Series documentary | Himself |
| Azeroth Choppers | 2014 | TV Series short | Himself (2014) |
| American Chopper: Senior vs. Junior | 2010-2012 | TV Series | Himself |
| Chopper LIve: The Revenge | 2012 | TV Movie | Himself |
| Late Show with David Letterman | 2004-2012 | TV Series | Himself / Himself - Guest / Himself - Receives a visit from Biff Henderson at OCC |
| American Chopper Live: The Build Off | 2011 | TV Movie | Himself |
| Say Yes to the Dress | 2010 | TV Series | Himself |
| American Chopper: The Series | 2002-2010 | TV Series | Himself |
| Jon & Kate Plus 8 | 2009 | TV Series | Himself |
| Celebrity Family Feud | 2008 | TV Series | Himself |
| Ellen: The Ellen DeGeneres Show | 2008 | TV Series | Himself |
| Last Call with Carson Daly | 2008 | TV Series | Himself |
| The Late Late Show with Craig Ferguson | 2007 | TV Series | Himself |
| 101 Guiltiest Guilty Pleasures | 2006 | TV Mini-Series documentary | Himself |
| King of the Hill | 2006 | TV Series | Himself |
| The Tony Danza Show | 2005-2006 | TV Series | Himself |
| American Chopper 2: Full Throttle | 2005 | Video Game | Himself (voice) |
| The Big Idea with Donny Deutsch | 2005 | TV Series | Himself |
| The Tonight Show with Jay Leno | 2003-2005 | TV Series | Himself |
| American Hot Rod | 2005 | TV Series documentary | Himself |
| Late Night with Conan O'Brien | 2004 | TV Series | Himself |
| The Daily Show | 2003 | TV Series | Himself |
Awards
Won Awards
| Year | Award | Ceremony | Nomination | Movie |
| --- | --- | --- | --- | --- |
| 2007 | Astra Award | Astra Awards | Favourite International Personality or Actor | American Chopper: The Series (2003) |
Source:
IMDb
,
Wikipedia