Pernell Roberts:
• American actor and singer who was best known for his roles in "Bonanza" and "Trapper John, M.D."
• Served two years in the United States Marine Corps Band
• Received Drama Desk Award in 1955 for his performance in off-Broadway play "Macbeth"
• Landed title role in medical drama series "Trapper John, M.D." in 1979
• Had estimated net worth of $10 million at time of death in 2010.

Known for movies
Short Info
| | |
| --- | --- |
| Died | January 24, 2010, Malibu, California, United States |
| Spouse | Eleanor Criswell, Kara Knack, Judith Anna Roberts, Vera Mowry Roberts |
| Mark | Baritone voice |
| Fact | Roberts appeared with his ex-Bonanza (1959) co-star's, Michael Landon's, former television daughter, Melissa Gilbert, in Donor (1990). |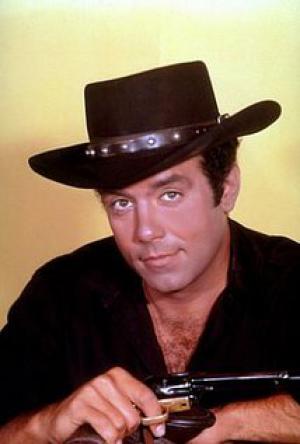 Pernell Roberts was an American actor and singer, who was best known for his role as Adam Cartwright on NBC's hit Western television series, "Bonanza," and for his title character role on CBS' medical drama series, "Trapper John, M.D." He died in 2010 at age 81.
Early life and family
Pernell Elven Roberts Jr. was born on 18 May 1928, in Waycross, Georgia, USA to Pernell Elven Roberts Sr. (1907-1980) and Minnie "Betty" Myrtle Morgan Roberts (1910-1988). His father was a Dr. Pepper salesman while his mother's occupation, if any, was not revealed. There is no other information available regarding his parents and childhood years.
Educational Background
He matriculated from Waycross High School, and he actively participated in school and church plays during this time. He was cast in tragedies such as William Shakespeare's "Othello" and Sophocles' "Antigone."
He also sang at events such as the local United Service Organizations, Inc. (USO) shows, which is a nonprofit and charitable corporation providing live entertainment for the United States Armed Forces members and families. He attended the Georgia Institute of Technology but did not graduate.  In 1946, he enlisted in the United States Marine Corps and served for two years wherein he played the horn and tuba in the Marine Corps Band. He attended the University of Maryland but still wasn't able to graduate because he left for work to perform in summer stock theatre.
Career
First steps
Roberts worked as a forest ranger, railroad riveter, tombstone maker, and butcher to support himself as he pursued his career in theatre.
He made his debut as a professional stage actor in 1949 with the three‑act comedy by George S. Kaufman and Hart Moss, "The Man Who Came to Dinner," at the Olney Theatre in Maryland. It was followed by various stage plays including Emlyn Williams' psychological thriller, "Night Must Fall," and Bernard Shaw's most popular play, "Pygmalion."
He moved to Washington, D.C. in 1950 and for two years, he performed with the Arena Stage, a non-profit regional theater company, and was cast in many of William Shakespeare's plays such as the comedy, "The Taming of the Shrew," romantic comedy, "Twelfth Night," and tragedy, "Julius Caesar" as well as Oscar Wilde's masterpiece, "The Importance of Being Earnest." He also performed with other productions after that.
Further success
In 1952, he moved to New York and performed in a variety of off-Broadway and Broadway plays, and most notable was his performance in the off-Broadway play, "Macbeth," which won him the Drama Desk Award in 1955.
Pernell made his television debut in 1956 in NBC's anthology drama television series, "Kraft Television Theater," which also starred popular actors such as Paul Newman, Grace Kelly, and James Dean. He appeared in one of its episodes entitled, "Shadow of Suspicion." He was cast for guest-starring roles in several western television series after that including ABCs "Cheyenne" and "Sugarfoot" as well as NBC's "Cimarron City" and "Gunsmoke."
In 1957, he signed a contract with Columbia Pictures and made his film debut in 1958 in the American movie version of Eugene O'Neill's 1929 play, "Desire Under the Elms."
The movie, which starred Sophia Loren, Anthony Perkins, and Burl Ives, competed for the Palme d'Or award at the 1958 Cannes Film Festival. Pernell was cast in a small role that of Peter, one of the sons of Ephraim Cabot played by Burl Ives. That same year, he played the character role of a professional gunman named Chocktaw Neal in the western movie, "The Sheepman," directed by George Marshall and starred Glenn Ford and Shirley MacLaine.
He accepted a lot of television work such as in the children's anthology series, "Shirley Temple Storybook Theater," and in NBC's anthology series "Matinee Theater" and "General Electric Theater."
 "Bonanza"
He landed the role of Adam Cartwright in NBC's American western television series, "Bonanza," which was set in the 1860s during and after the American Civil War.
It revolved around his wealthy family, the Cartwrights, who live at the 2,600-sq. km Ponderosa Ranch near the silver ore mines in Virginia City, Nevada. Pernell's character was the eldest son of the widowed Ben Cartwright played by Lorne Greene, and he had two step-siblings, both from different mothers, namely Hoss (Dan Blocker) and Little Joe (Michael Landon).
Departure from the show
The show was a huge hit and enjoyed high ratings, but it did not stop Pernell from quitting after 202 episodes in 1965 when his five-year contract ended. His decision came after having disagreements over the scripts and his character with the writers and producers. It was said that he became frustrated and dissatisfied with the way his character continued to defer to his father's wishes despite being a man in his 30s.
He also reportedly said that he didn't like the series and called it junk although he later denied making such a statement in an interview. However, he did ask the reporter during a 1963 interview 'Isn't it a bit silly for three adult males to have to ask father's permission for everything they do?' In the "Mike Douglas Show" in 1966, he said he wanted the storyline to be 'a little more grown-up' and have more social relevance. He also realized he was not suited to the 'confining aspect' of a series that limited his acting range as well. The "Bonanza" producer, David Dortort, said he regretted not having Pernell continue on the show even if only as a semi-regular. He further added that he was too hard on the actor, whom he described as outspoken and rebellious, and that he did not appreciate how much good of an actor he really was.
"Bonanza" was one of the first television series filmed and broadcast in color. It ran from 12 September 1959 to 16 January 1973 for 14 seasons with 431 episodes making it the longest-running western series at NBC and second in the U.S. The series was ranked 43rd on "TV Guide's 50 Greatest TV Shows of All Time." It received numerous nominations from various award-giving bodies such as the Primetime Emmy Award, which gave them the Outstanding Individual Achievements in Entertainment – Color Consultant award in 1965 and Individual Achievements in Film Editing award in 1966.
After Bonanza
He went back to performing in stock summer theatre and regional theatres. He also toured with musicals such as "Camelot," which was based on the legend of King Arthur, and Rodgers and Hammerstein's "The King and I."
He received good reviews in 1969 for his performance in "Mata Hari." In 1972, he played the title role and was praised for his performance in the Broadway play, "Captain Brassbound's Conversion," by George Bernard Shaw, which also starred the Academy Award and Tony Award winner Ingrid Bergman. Also worth mentioning were his performances as Rhett Butler in the play, "Gone with the wind" and as Captain von Trapp in the musical, "The Sound of Music." From time to time, he accepted guest-starring roles in television series and leading roles in television movies.
"Trapper John, M.D."
It was in 1979 when he landed the title role in the medical drama television series, "Trapper John, M.D." This CBS show was a spin-off of the black comedy war film, "MASH," released in 1970.
The story revolved around Dr. "Trapper" John McIntyre, the Chief of Surgery at San Francisco Memorial Hospital, nearly three decades after he was discharged from the Mobile Army Surgical Hospital (MASH) in the Korean War. It first aired on 23 September 1979 and ran for seven seasons with 151 episodes, and the last one was aired on 4 September 1986.
His last regular TV work was as the host of the ABC police anthology, "FBI: The Untold Stories," in 1991. Roberts appeared in more than 60 films, TV movies, and television series.
Personal life
Pernell was married four times. His first wife was Vera Mowry, who was a professor of theatre history at Washington State University. He first met her when he joined the Arena Stage in 1950. She was one of its founding members and technical director at that time.
According to Vera, Pernell had this purity that you couldn't help but feel the truth in his acting. They were married in 1951 and had a son named Jonathan Christopher "Chris" Roberts, who was born in October of that year. In 1952, the family moved to New York where Pernell continued to pursue his career in theater as well as ventured into acting in television and film. Vera, on the other hand, taught acting classes at Hunter College, which is one of the constituent colleges of the City University of New York. The couple had a cordial divorce in 1959. There is not much information about his son except that he attended Franconia College in Franconia, New Hampshire, United States. In 1989, Chris was killed in a motorcycle crash.
His second wife was Judith LeBreque whom he met at a bar in Hollywood.
He married her before a judge in Hollywood in 1962 on a lunch break during the shooting of "Bonanza." It was said that he had to pick up Judith first then go to the judge. However, he had to run to the nearest gas station because his car ran out of gas along the way. Luckily, they made it in time and were able to marry. He then rushed back to his set to continue shooting. After nine years of marriage, they divorced in 1971.
Pernell's third wife was Kara Knack, and they tied the knot in 1972 and divorced in 1996 after 24 years. Kara said they had a code they used when she was revealing too many of his secrets and he had to stop her, and that was PMB – "Protect My Balls."
He married Eleanor Criswell before a judge in his breakfast room in 1997. Their paths first crossed while he was filming "Trapper John, M.D." He was diagnosed with pancreatic cancer in 2007 and died at age 81 on 24 January 2010, in his Malibu home with his wife by his side.
Remembering #PernellRoberts (RIP), "Adam Cartwright" on the western series #Bonanza and the title role on the medical drama #TrapperJohnMD, born this day in 1928. pic.twitter.com/24buIEUHM7

— Silver Age Television 📺 (@SilverAgeTV) May 18, 2020
Interesting facts and rumors
According to his family, Pernell joined the 1965 march from Selma to Montgomery in Alabama and walked alongside Martin Luther King.
Pernell recorded "Come All Ye Fair and Tender Ladies," which was folk music and included in the album released by RCA Victor that was on the fourth disc of the "Bonanza" 4-CD boxed set; he sang more than a dozen songs in the album.
It was said that on the set of "Bonanza," he protested the use of all-white crews and guest actors.
A Ponderosa theme park near Lake Tahoe used Pernell's image on billboards without his permission so he filed a lawsuit in the 80s and won.
Eleanor said that Pernell never exercised his right to vote.
He loved trees and spent some time pruning them, even bringing red-handled clippers when he traveled.
Pernell learned Gullah, the language spoken by slaves of coastal Georgia and South Carolina. He bought the Gullah Bible and read a few pages to Eleanor in 2007.
At the celebration of Pernell Roberts' life on 28 February 2010 in Santa Monica, California, those who gave eulogies were not just his wife and friends but also his ex-wives, Judith and Kara. Richard Stone, his lawyer of 50 years was the master of ceremonies.
Appearance
He was 6 ft. 2ins. (1.8m) and weighed 198lbs (89kg).
Net Worth
He had been working in theatre, films, and television for more than half his life for guest-starring roles as well as major roles such as in "Bonanza" and "Trapper John, M.D." His income was not disclosed, but according to sources, his estimated net worth was $10 million.
General Info
| | |
| --- | --- |
| Full Name | Pernell Roberts |
| Died | January 24, 2010, Malibu, California, United States |
| Height | 1.83 m |
| Profession | Actor, Singer |
| Education | Georgia Institute of Technology |
| Nationality | American |
Family
| | |
| --- | --- |
| Spouse | Eleanor Criswell, Kara Knack, Judith Anna Roberts, Vera Mowry Roberts |
| Children | Jonathan Christopher Roberts |
| Parents | Pernell Elven Roberts, Sr., Minnie Myrtle Morgan Roberts |
Accomplishments
| | |
| --- | --- |
| Awards | Drama Desk Award for Outstanding Performance |
| Nominations | Primetime Emmy Award for Outstanding Lead Actor in a Drama Series |
| Movies | Ride Lonesome, Four Rode Out, Desire Under the Elms, The Bravos, High Noon, Part II: The Return of Will Kane, The Magic of Lassie, The Night Train to Kathmandu, Charlie Cobb: Nice Night for a Hanging, The Sheepman, The Deadly Tower, Desperado, Perry Mason: The Case of the All-Star Assassin, Adventur... |
| TV Shows | FBI: The Untold Stories, Trapper John, M.D., Centennial, Bonanza, Jigsaw |
Social profile links
Marks
| # | Marks / Signs |
| --- | --- |
| 1 | Roles in Westerns |
| 2 | Several of his roles were doctors that served compassion to others. |
| 3 | Baritone voice |
| 4 | His beard |
Quotes
| # | Quote |
| --- | --- |
| 1 | I just didn't enjoy Bonanza (1959) anymore. My contract was up and I left. It became joyless and boring and predictable and I had to get away. But I never said those things people said I said. |
| 2 | I distinguished myself by flunking out of college three times. |
| 3 | On playing the same character that Wayne Rogers would've been famous for after M*A*S*H (1972), when he left in 1975: Time is moving along. I'm 51 and I say, 'Well, maybe I better hedge my bet a little and get into something more lucrative so I won't have to find food in the garbage vehicles of America, when I'm old.' |
| 4 | Who played the same character that Wayne Rogers had created, when he was on M*A*S*H (1972), except Roberts played his mellower than Rogers: I really don't know what the thrust of the series is. Sometimes it's drama, sometimes farce. I have absolutely no input. The actor is the last person the producers want to hear from. |
| 5 | Who proclaimed about leaving his role on Bonanza (1959), after he appeared in the show's 177 of the 430 episodes: I feel I am an aristocrat in my field of endeavor. My being part of Bonanza (1959) was like Isaac Stern sitting in with Lawrence Welk. |
| 6 | Who recounted casting for the lead role of Trapper John, M.D. (1979): The beginning of this year, I got a call to come in and talk about the show. 3 weeks later, I was called back to do a screen test. And then, I waited again, until I finally got the word about a week before we shot the pilot that the network had approved me for the part. |
| 7 | In 1980: I've seen it all before. A hundred times before. Actors on their way up. Actors coasting. It was the same 20 years ago as today. |
| 8 | Why do a series? It's called paying the rent. It's called paying your dues. But so much depends on timing. Mine was a bit off when I quit Bonanza (1959). |
| 9 | Who never quite stomach it, who in turn never hid his feelings: There are times when I think we almost manage to transcend our constant lack of good scripts, proper rehearsal and all the other things that bug a man in this business ... Everything on TV is that monster, compromise ... Let's face it, Bonanza (1959) could be really good if the powers-that-be care enough to make it that way. |
| 10 | Of what led him to do Trapper John, M.D. (1979), when he sounded subdued, almost resigned: I'm getting old. I just turned 51. I need to make a live. I hope that I can be totally responsible for my life till I die. Perhaps I won't have to worry in my later years. |
| 11 | When questioned if he was sorry for leaving his role on Bonanza (1959): God no! I'm just sorry I wasn't able to get out of my contract and leave sooner. So the other made millions. How much does one person need to live? I've never needed or wanted that much. |
| 12 | As we get older, we become more political in terms of survival. We realize a certain amount of cunning is necessary and that you just end up in a victim when you are totally honest in an environment where those around you aren't. It's a matter of remaining true to yourself while continuing to move forward. It's also a matter of learning to keep control of one's balance. |
| 13 | In 1979: I've never been career oriented. Did I even want to be a star? What's a star? Is that something in the heavens? That's the only definition that comes to my mind. And the most important goals in my life have been to move gently to be at ease with the mystery of what it's all about. |
| 14 | Isn't it just a bit silly for three adult males to get father's permission for everything they do? I haven't grown at all since the series began four years ago. I have an impotent role. Everywhere I turn, there's the father image. - In 1963 when Bonanza (1959) was too remote from reality. |
| 15 | They told me the four characters [Lorne Greene, myself and Dan Blocker and Michael Landon as brothers] would be carefully defined and the scripts carefully prepared. None of it ever happened. - (In 1964 about the limitations he felt about his character given on-screen for Bonanza (1959).) |
| 16 | There are times when I think we almost manage to transcend our constant lack of good scripts, proper rehearsal and all the other things that bug a man in this business.... Everything on TV is that monster, compromise.... Let's face it, Bonanza could be really good if the powers-that-be cared enough to make it that way. |
| 17 | I'm never satisfied with my own work. |
| 18 | I had six seasons of playing the eldest son on that show. Six seasons of feeling like a damned idiot, going around -- me, like a middle-aged teenager, saying, 'Yes, Pa,' 'No, Pa' on cue. It was downright disgusting -- such dialogue for a grown man. I felt I wasn't being taken seriously as an actor, and that's like death to one's talent...Stuck as Adam Cartwright, I was only able to use about one-tenth of my ability. -- PR on why he left Bonanza (1959) |
| 19 | I was teaching a Sunday school class at one of the churches in Waycross, Georgia, where I grew up. And the lesson dealt with equality and all of us being one under the eyes of God. All of a sudden it hit me!! This isn't true! The church was - is- the most segregated place one day a week there is in our country. And it's so ironical and so tragic that here's a philosophy which preaches and teaches human understanding and brotherly love and practices, in essence, the most vicious form of human relationship there is. |
Facts
| # | Fact |
| --- | --- |
| 1 | He was known to be a very private man. |
| 2 | While attending Waycross High School, he was a member of the boys basketball team. |
| 3 | In 1972, Roberts returned to Broadway and toured with Ingrid Bergman in Captain Brassbound's Conversion, in which he played the title role. |
| 4 | Won a Drama Desk Award in 1955 for his performance in an off-Broadway rendition of Macbeth, which was followed by the role of Mercutio in Romeo and Juliet. |
| 5 | Started acting in classical theater, since college. |
| 6 | Lived in Los Angeles, California, from 1957 to 1991. |
| 7 | Lived in Maryland, from 1946 to 1949. |
| 8 | Was named after his father. |
| 9 | Began acting as a teenager. |
| 10 | Roberts appeared with his ex-Bonanza (1959) co-star's, Michael Landon's, former television daughter, Melissa Gilbert, in Donor (1990). |
| 11 | Flunked out of both Georgia Tech. University and University of Maryland, twice. |
| 12 | His first wife, Vera Mowry, was a professor theater history at Washington St. University. |
| 13 | Began his career as a contract player for Columbia in 1957. |
| 14 | Won a Western Heritage Award for his guest-starring role on The Young Riders (1989) in 1991. |
| 15 | Attended Michael Landon's funeral in 1991. |
| 16 | Prior to acting, Roberts also toured university campus conducting seminars or play productions acting and poetry. |
| 17 | Longtime friend of James Drury. |
| 18 | Made his professional stage debut in 1949 with Moss Hart and Kitty Carlisle in 'The Man Who Came To Dinner'. |
| 19 | Met Lee Majors on one of the two episodes of The Big Valley (1965), where the two became friends until Roberts' own death in 2010. |
| 20 | Had guest-starred on the first episode of Hotel (1983). |
| 21 | Acting mentor was Lorne Greene. |
| 22 | Acting mentor and friend of Gregory Harrison. |
| 23 | After a 14 year absence from television, he decided to comeback to do Trapper John, M.D. (1979) for financial security. |
| 24 | With his G.I. bill, he attended the University of Maryland, where he was drawn to acting, eventually leaving school to work for the stage. |
| 25 | Had made over 40 guest appearances on television. |
| 26 | Second-only to Robert Fuller, Roberts ranked second for guest-starring in a number of Western shows. |
| 27 | Was a spokesperson for the National Kidney Foundation in the 1980s. |
| 28 | Upon his death, he was cremated. |
| 29 | His ex-Bonanza (1959) co-star, Michael Landon, died of pancreatic cancer, the same disease Roberts succumbed to, years after. |
| 30 | Pernell Roberts died on January 24, 2010. He was the longest living Bonanza (1959) cast member, followed by Lorne Greene, who played his TV father in the series. |
| 31 | Had a son, Jonathan Christopher, nearly a year after he wed Vera Mowry, his first wife. |
| 32 | Before he was a successful actor, he was a Sunday School teacher in church in his hometown of Waycross, Georgia. |
| 33 | Prior to his retirement, he updated the George Fallon character on an episode of Diagnosis Murder (1993), he played decades after Mannix (1967). |
| 34 | Future actor Gregory Harrison was Roberts' childhood television hero, watching Bonanza (1959). He co-starred alongside him in Trapper John, M.D. (1979). |
| 35 | Like his ex-Bonanza (1959) co-star, Michael Landon, Roberts himself had also resided in Malibu, California, where he died. |
| 36 | His second ex-wife Judith Roberts guest-starred with him on an episode of Trapper John, M.D. (1979). |
| 37 | Was reunited with his ex-Bonanza (1959) co-star, Lorne Greene, for 2 episodes of Vega$ (1978). |
| 38 | Moved to Washington, D.C., in 1950, taking some odd jobs while performing with the Arena Stage Theater for two years. |
| 39 | When he won the role as Adam Cartwright on Bonanza (1959), he found the adjustment to a television show difficult. |
| 40 | Had always detested his role on Bonanza (1959), .He did not detest the show itself. just his role on it. He left over an argument with the producers that the boys, should be called son's and at least one of them get married and have their own family. Realalisticly, Adam. He loved his co-stars and didn't want to leave them but the money just wasn't that important to him at the time. He felt he could do better elsewhere. |
| 41 | After he happily left his role on Bonanza (1959), he turned his back on Hollywood wisdom and well-meant advice, hence, he returned to stage acting. It would take 14 years for Roberts to revitalize his career with a comeback to television with Trapper John, M.D. (1979). |
| 42 | Was the only original cast member of Bonanza (1959) to have become an accomplished singer, though David Canary, who joined the show in 1967, had a background in voice and performed on Broadway. |
| 43 | Played the character of Trapper John, M.D. (1979) longer than Wayne Rogers would. |
| 44 | Beat out 2 other actors, Wayne Rogers and John Forsythe, for the lead role of the title character in Trapper John, M.D. (1979). |
| 45 | Was also a lifelong activist, which included participation in the Selma to Montgomery Marches in 1965, and pressuring NBC to refrain from hiring whites to portray minority characters. |
| 46 | His son, Jonathan Christopher Roberts died in 1989 in a motorcycle accident. |
| 47 | His parents, Pernell Elvin Roberts Sr., was a Dr. Pepper salesman; died in 1980, and Minnie 'Betty' Myrtle Morgan, was a housewife; died 8 years later in 1988. |
| 48 | After his guest-starring role on Diagnosis Murder (1993), he retired from acting at age 66. |
| 49 | Updated his George Fallon character on an episode of Diagnosis Murder (1993), he played decades after Mannix (1967). |
| 50 | Once referred to his Trapper John, M.D. (1979) co-star, Gregory Harrison, a young rebel, when the show started. |
| 51 | Had appeared in each and every episode of Trapper John, M.D. (1979), with the exception of 1. |
| 52 | Friends with: James Drury, Doug McClure, Dan Blocker, Michael Landon, David Wayne, Robert Young, Charles Siebert, Mary McCarty, Madge Sinclair, Sarah Cunningham, Barbara Stanwyck, Lee Majors, Linda Evans, James Best, Larry Hagman, Dick Van Dyke, Brian Keith, Aaron Spelling, Simon Scott, James Arness, Peter Graves, Peter Lupus, Jack Klugman, Rod Serling, Robert Stack, Raymond Burr, Henry Darrow, Robert Conrad, Connie Stevens, Ruta Lee, Stefanie Powers, Will Hutchins, Bart Braverman, Clifton James, Janis Page, R.G. Armstrong, Burl Ives, Quinn Martin, Frank Price and Robert Vaughn. |
| 53 | Had left his role on Bonanza (1959), at the end of the sixth season in 1965, were because of two things: He was very unhappy with the way his character was going and for refusing to renegotiate his contract, for the following eight seasons. |
| 54 | Before he was a successful actor, he also worked briefly as an apprentice with the Atlantic Coastline Railroad after graduating from high school. |
| 55 | He had seven hobbies: golfing, swimming, reading literature, playing tennis, cooking and running. He also enjoyed singing in his spare time. |
| 56 | Before he was a successful actor, he was a butcher, a forest ranger, and a railroad riveter. |
| 57 | Graduated from Waycross High School in Waycross, Georgia, in 1945. |
| 58 | During his high school years, he played the horn, acted in school and church plays, and sang in local USO shows - pursuing a wide range of occupations before pursuing acting. |
| 59 | Was the spokesperson for Ecotrin Tablets between 1982 to 1990. |
| 60 | Had attended but did not graduate from Georgia Institute of Technology in Atlanta. |
| 61 | Remained good friends with Gregory Harrison, during and after Trapper John, M.D. (1979). |
| 62 | While serving for two years in the United States Marine Corps, he participated in the Marine Corps Band. |
| 63 | An avid political liberal, Roberts often complained about the mostly white complexion of the "Bonanza" cast, and the stereotypical ethnic roles that were displayed (in particularly, "Hop Sing", the house servant, played by Victor Sen Yung). |
| 64 | The singer appeared in one-act operas and ballets with the North American Lyric Theatre early in his career. |
| 65 | Had a penchant for martial arts; was known for giving demonstrations at the annual Circus of the Stars (1977), from the 1970s through the 1980s. |
| 66 | Roberts (born May 18, 1928) was only 6 months, 22 days older than Dan Blocker (born December 10, 1928), who played his television middle brother, Hoss Cartright, on Bonanza (1959). |
| 67 | Roberts (born May 18, 1928) was only 13 years, 3 months, 6 days younger than Lorne Greene (born February 12, 1915), who played his television father, Ben Cartwright, on Bonanza (1959). |
| 68 | His fine baritone was put to use frequently on stage in a number of musicals including "The King and I," "The Music Man," 'Kiss Me Kate," "Camelot" and "The Sound of Music". He played Rhett Butler in a short-lived 1973 musical version of "Gone With the Wind". |
| 69 | He was nominated for a 1973 Joseph Jefferson Award for Best Guest Artist for his performance in the play, "Welcome Home", at the Ivanhoe Theatre in Chicago, Illinois. |
| 70 | Best known by the public for his role as Adam Cartwright on Bonanza (1959), and for his starring role as the title character in Trapper John, M.D. (1979). |
| 71 | When he was interviewed after his career resurgence with Trapper John, M.D. (1979) in the early 1980s, Roberts identified himself as very much a liberal. |
| 72 | Recorded a solo album of folk songs on RCA Victor, "Come All Ye Fair and Tender Ladies," in 1962. |
| 73 | He sang in several episodes of Bonanza (1959) and appeared on 2 record albums with the Bonanza (1959) cast as well as 1 solo album. |
| 74 | Had a talent for singing, and was especially fond of performing folk music. |
| 75 | First wife Dr. Vera Mowry was a professor at Washington State University. |
| 76 | Had one son, Jonathan Christopher Roberts (b. October 1951, d. 1989), with 1st wife Vera Mowry. |
| 77 | Parents: father, Pernell Elvin Sr.; mother, Betty Roberts. |
Pictures
Movies
Actor
| Title | Year | Status | Character |
| --- | --- | --- | --- |
| Diagnosis Murder | 1994-1997 | TV Series | George Fallon / Dr. Elliott Valin |
| Checkered Flag | 1991 | | Andrew Valiant |
| Donor | 1990 | TV Movie | Dr. Martingale |
| The Young Riders | 1990 | TV Series | Hezekiah Horn |
| Perry Mason: The Case of the All-Star Assassin | 1989 | TV Movie | Thatcher Horton |
| Around the World in 80 Days | 1989 | TV Mini-Series | Captain Speedy |
| The Night Train to Kathmandu | 1988 | TV Movie | Prof. Harry Hadley-Smithe |
| Desperado | 1987 | TV Movie | Marshal Dancey |
| Trapper John, M.D. | 1979-1986 | TV Series | Trapper John McIntyre |
| Hotel | 1983 | TV Series | Charles Stanton |
| Incident at Crestridge | 1981 | TV Movie | Mayor Hill |
| High Noon, Part II: The Return of Will Kane | 1980 | TV Movie | Marshal J.D. Ward |
| The Love Boat | 1980 | TV Series | Brian Mallory |
| Vega$ | 1978-1980 | TV Series | Mr. Logan / Pete Sedgewick |
| Hot Rod | 1979 | TV Movie | Sheriff Marsden |
| The Night Rider | 1979 | TV Movie | Alex Sheridan |
| The Paper Chase | 1979 | TV Series | Professor Marc Justin |
| The Immigrants | 1978 | TV Movie | Anthony Cassala |
| Centennial | 1978 | TV Mini-Series | General Asher |
| Quincy M.E. | 1977-1978 | TV Series | Dr. Chester Banning / Sheriff Connelly |
| The Hardy Boys/Nancy Drew Mysteries | 1978 | TV Series | Detective Superintendant Molly / Fire Chief Madison |
| The Magic of Lassie | 1978 | | Jamison |
| The Rockford Files | 1978 | TV Series | B.J. Anderson |
| Man from Atlantis | 1977 | TV Series | Clint Hollister |
| Westside Medical | 1977 | TV Series | Walt Dahlman |
| Charlie Cobb: Nice Night for a Hanging | 1977 | TV Movie | Sheriff Yates |
| The Feather and Father Gang | 1977 | TV Series | Meminger |
| The Streets of San Francisco | 1977 | TV Series | Charley Finn |
| Police Woman | 1977 | TV Series | Wagner |
| Most Wanted | 1977 | TV Series | Bailey |
| Baretta | 1977 | TV Series | Johnny Hillman |
| Switch | 1977 | TV Series | Barnes |
| Barnaby Jones | 1977 | TV Series | Daniel Matthews |
| Spencer's Pilots | 1976 | TV Series | Pete Sewell |
| Captains and the Kings | 1976 | TV Mini-Series | Braithwaite |
| Paco | 1976 | | Pompiho |
| Bert D'Angelo/Superstar | 1976 | TV Series | |
| Jigsaw John | 1976 | TV Series | Roger |
| The Six Million Dollar Man | 1976 | TV Series | Mark Wharton |
| Cannon | 1976 | TV Series | Cleary / Phil Denton |
| Bronk | 1975 | TV Series | Collicos |
| The Wide World of Mystery | 1975 | TV Series | Mike |
| The Lives of Jenny Dolan | 1975 | TV Movie | Camera Shop Proprietor |
| Ellery Queen | 1975 | TV Series | Rosh Kaleel / Barney Groves / Maj. George Pearson |
| The Deadly Tower | 1975 | TV Movie | Lieutenant Lee |
| Medical Story | 1975 | TV Series | Dr. Louis Kinoy |
| Dead Man on the Run | 1975 | TV Movie | Brock Dillon |
| Police Story | 1974-1975 | TV Series | Sgt. Sal Grosser / Charlie Rivas |
| Ironside | 1968-1975 | TV Series | Harry Blocker / Frank Vincent |
| Nakia | 1974 | TV Series | |
| The Odd Couple | 1974 | TV Series | Billy Joe |
| Hawkins | 1974 | TV Series | Senator Griffith |
| Mannix | 1973 | TV Series | George Fallon |
| Mission: Impossible | 1967-1973 | TV Series | Boomer / Chief Manuel Corba / Colonel Hans Krim / ... |
| Marcus Welby, M.D. | 1971-1973 | TV Series | Tom Boyd / Roger |
| Banacek | 1972 | TV Series | Matthew Donniger |
| Night Gallery | 1972 | TV Series | Joe Bellman / Joe Bellman (segment "The Tune in Dan's Cafe") |
| The Sixth Sense | 1972 | TV Series | Paul Pettigrew |
| Owen Marshall, Counselor at Law | 1972 | TV Series | |
| Assignment: Munich | 1972 | TV Movie | C.C. Bryan |
| Adventures of Nick Carter | 1972 | TV Movie | Neal Duncan |
| The Bravos | 1972 | TV Movie | Jackson Buckley |
| Alias Smith and Jones | 1971-1972 | TV Series | Terence Tynan / Sam Finrock |
| The Virginian | 1966-1971 | TV Series | Stranger / Jim Boyer Sr. |
| Hawaii Five-O | 1971 | TV Series | Lon Phillips |
| The Name of the Game | 1969-1971 | TV Series | Ernie Subich / Hank |
| The Bold Ones: The New Doctors | 1971 | TV Series | Dr. Frank Bartell |
| The Kashmiri Run | 1970 | | |
| San Francisco International Airport | 1970 | TV Series | Jim Conrad |
| Four Rode Out | 1970 | | U.S. Marshal Ross |
| The Silent Gun | 1969 | TV Movie | Sam Benner |
| Lancer | 1969 | TV Series | Theodore Banning |
| The Big Valley | 1967-1968 | TV Series | Ed Tanner / Patrick Madigan |
| CBS Playhouse | 1967 | TV Series | Lenny Marshall |
| Gunsmoke | 1957-1967 | TV Series | Dave Reeves / Nat Pilcher |
| The Wild Wild West | 1967 | TV Series | Sean O'Reilley |
| Carousel | 1967 | TV Movie | Jigger Craigin |
| The Girl from U.N.C.L.E. | 1966 | TV Series | Joey Celeste |
| Bonanza | 1959-1965 | TV Series | Adam Cartwright |
| The Errand Boy | 1961 | | Adam Cartwright - Cameo (uncredited) |
| The Detectives | 1960 | TV Series | Rod Halleck |
| Buckskin | 1959 | TV Series | Oscar |
| 77 Sunset Strip | 1959 | TV Series | Tony Gray |
| Bronco | 1959 | TV Series | Dave Clayton |
| One Step Beyond | 1959 | TV Series | Sgt. Vaill |
| Cimarron City | 1959 | TV Series | O'Hara |
| Lawman | 1959 | TV Series | Fent Harley |
| Ride Lonesome | 1959 | | Sam Boone |
| General Electric Theater | 1958-1959 | TV Series | Abner / Phil |
| Zane Grey Theater | 1958 | TV Series | Lew Banning / Jet Mason |
| Shirley Temple's Storybook | 1958 | TV Series | Count DeSpard / Thorabore / Count Schoenfeld |
| Northwest Passage | 1958 | TV Series | Captain Jacques Chavez |
| Matinee Theatre | 1957-1958 | TV Series | Don John / Hassan |
| Tombstone Territory | 1958 | TV Series | Johnny Coster |
| The Sheepman | 1958 | | Chocktaw Neal |
| Have Gun - Will Travel | 1958 | TV Series | Maury Travis |
| Desire Under the Elms | 1958 | | Peter Cabot |
| Whirlybirds | 1958 | TV Series | Reynolds |
| Sugarfoot | 1957-1958 | TV Series | Deuce Braden / Salt River Smith |
| Trackdown | 1958 | TV Series | Bannion |
| Climax! | 1957 | TV Series | |
| Kraft Theatre | 1956 | TV Series | |
Soundtrack
| Title | Year | Status | Character |
| --- | --- | --- | --- |
| Bonanza | | TV Series 1 episode, 1964 performer - 3 episodes, 1961 - 1963 | |
Thanks
| Title | Year | Status | Character |
| --- | --- | --- | --- |
| The Last Shot | 2004 | special thanks | |
Self
| Title | Year | Status | Character |
| --- | --- | --- | --- |
| FBI: The Untold Stories | 1991-1993 | TV Series | Himself - Host |
| Realm of the Alligator | 1986 | Documentary | Himself - Narrator (voice) |
| Circus of the Stars #10 | 1985 | TV Special documentary | Himself |
| Night of 100 Stars II | 1985 | TV Movie | Himself |
| Battle of the Network Stars XII | 1982 | TV Special | Himself - CBS Team Captain |
| Night of 100 Stars | 1982 | TV Special | Himself |
| Battle of the Network Stars XI | 1981 | TV Special | Himself - CBS Team Captain |
| The 33rd Annual Primetime Emmy Awards | 1981 | TV Special | Himself - Nominee: Outstanding Lead Actor in a Drama Series |
| The David Frost Show | 1972 | TV Series | Himself |
| The Joey Bishop Show | 1968 | TV Series | Himself |
| The Merv Griffin Show | 1965 | TV Series | Himself |
| The Ed Sullivan Show | 1965 | TV Series | Himself |
| The Tonight Show Starring Johnny Carson | 1963-1965 | TV Series | Himself - Guest |
| Hollywood Backstage | 1964 | TV Series | Himself |
| Chevrolet's Bewitching Bonanza | 1964 | Short | Himself |
| The Match Game | 1964 | TV Series | Himself - Team Captain |
| You Don't Say | 1964 | TV Series | Himself |
Archive Footage
| Title | Year | Status | Character |
| --- | --- | --- | --- |
| 17th Annual Screen Actors Guild Awards | 2011 | TV Special | Himself - Memorial Tribute |
| Pioneers of Television | 2011 | TV Mini-Series documentary | Adam Cartwright from Bonanza |
| The 62nd Primetime Emmy Awards | 2010 | TV Special | Himself - Memorial Tribute |
| The O'Reilly Factor | 2008 | TV Series | Adam Cartwright (scenes from 'Bonanza') |
| Television: The First Fifty Years | 1999 | Video documentary | Adam Cartwright |
| Back to Bonanza | 1993 | TV Movie | Adam Cartwright |
| TV: The Fabulous Fifties | 1978 | TV Movie | Himself / Adam Cartwright |
Awards
Won Awards
| Year | Award | Ceremony | Nomination | Movie |
| --- | --- | --- | --- | --- |
| 1969 | Bambi | Bambi Awards | TV Series International | Bonanza (1959) |
Nominated Awards
| Year | Award | Ceremony | Nomination | Movie |
| --- | --- | --- | --- | --- |
| 1982 | Sour Apple | Golden Apple Awards | | |
| 1981 | Primetime Emmy | Primetime Emmy Awards | Outstanding Lead Actor in a Drama Series | Trapper John, M.D. (1979) |
Source:
IMDb
,
Wikipedia