• Charles Martin Smith is an American actor and director
• He is best remembered for his role in "The Untouchables"
• He has been nominated for numerous BAFTA and other awards for his directing work
• He is a musician, playing piano and guitar and composing music
• His net worth is estimated at $1.5 million as of 2020

Known for movies
Short Info
| | |
| --- | --- |
| Date Of Birth | October 30, 1953 |
| Fact | Attended Grover Cleveland High School with fellow classmate Morgan Brittany (Suzanne Cupito at the time), They performed in school musicals and dramas such as "The Crucible", "The Pajama Game", "Look Homeward, Angel" and others. They were both strong performers for the school and went on to achieve fame. |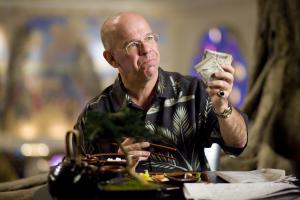 Charles Martin Smith is an American actor who is iconically remembered for his role in the star-studded film "The Untouchables". However, in recent years, the 66-year-old veteran actor has turned his attention to writing and directing films. Despite having played in a long list of filming credits, Charles' talents clearly lie in directing, since plenty of his work afforded him numerous BAFTA and other award nominations. Charles is a talented person and has more interests than films. Feel free to read more about his life and success as we discuss his career and interests.
Early life and family
Charles was born on 30 October 1953 in Van Nuys, California USA. There is no public information about his mother, but his father, Frank Smith, was a famous cartoonist and animator, as was his uncle Paul J. Smith, who worked for Walter Lantz Productions Studios. His cousin Sheryl Ann Smith also pursued a career in animation, like her father Paul.
During his childhood years, Charles spent four years in Paris, France, where his father was the manager of the English branch of a French animation studio. Charles later returned to the States to finish his high school career and attend university.
Educational background
Charles attended the Grover Cleveland High School in Reseda, California, from which he matriculated. While there, Charles participated in several school plays, and it was while performing in one such school play that a talent scout noticed his acting skills.
Following high school, Charles attended the California State University in Northridge, graduating with a BA degree in Theatre.
Career
Charles' career as an actor began at the age of eighteen in 1971, when he was cast in a guest role in the popular TV series "The Brady Bunch".
His career took off, and the following year he gained several more roles, including in the films "The Culpepper Cattle Co" and "Fuzz", and starred in the television show "Room 222".
He continued his success throughout the seventies, starring in several films that included "Pat Garrett and Billy the Kid", the George Lucas classic "American Graffiti", through which Charles acquired considerable fame, "The Buddy Holly Story" and others.
He later reprised the role of Terry the Toad Fields for the sequel film, "More American Graffiti". During this time, he also made appearances in numerous television shows, including "Chase", "The Rookies" and "The Life and Times of Grizzly Adams".
His career progressed through the eighties, during which time he landed several more prominent roles, such as in "Never Cry Wolf", and one of his most iconic films which starred several familiar names, including Shaun Connery, Robert De Niro, Andy Garcia and Kevin Costner, "The Untouchables". His television repertoire for the eighties includes "The Twilight Zone" and "When the Whistle Blows".
In the nineties, Charles began to focus more on a career behind the camera, but nonetheless continued to act in films. His debut directorial was in the 1986 film "Trick or Treat", in which he also had a role.
Despite debuting this early, his career as a writer/director only took off in the nineties, including "Air Budd" which Charles only directed. He starred in several films in the same era, including "Perfect Alibi" and "Deep Impact". He also appeared in the popular television series "The X-files".
Some other movies that Charles directed and wrote include "The Snow Walker" and "Stone of Destiny", and  he was also responsible for giving the world "Dolphin Tale" and its sequel.
His most recent work is "A Dog's Way Home" in 2019, based W. Bruce Cameron's novel of the same name.
Hobbies, favourite things and interesting facts
As much as Charles is in love with filmmaking and acting, he is also a capable musician. He plays the piano and guitar and also composes music. In an interview, Charles stated that he had been familiar with playing the bass guitar before the filming of "The Buddy Holly Story", in which he portrayed the Crickets' band bass player. He began learning to play the piano at the age of eight, and fell in love right then. Charles also fell in love with Canadian landscapes while filming "Never Cry Wolf", and has since relocated to live in Canada.
Relationships
Charles was reportedly married to actress Ursula Martin, but it is said that the relationship had ended in divorce – no record of any dates exist, so it is not widely known when they married and divorced. It can be suggested that the two possibly met on the set of "Air Bud", but may require confirmation.
They do have a child together, a daughter by the name Anna, who has accompanied her father to several gala events and film premieres.
Physical characteristics
Date of Birth: 30 October 1953
Hair colour: Bald
Eye colour: Blue
Height:  5ft 5ins (1.65m)
Weight: 171lbs (78kgs)
Shoe Size: 8 (US)
Star Sign: Scorpio
Nationality: American
Ethnicity: Caucasian
Net worth
Charles' net worth accumulated as both an actor and director is estimated at $1.5 million as of 2020
General Info
| | |
| --- | --- |
| Full Name | Charles Martin Smith |
| Date Of Birth | October 30, 1953 |
| Height | 1.63 m |
| Profession | Screenwriter, Film producer, Film director, Actor, Television Director |
| Education | Cleveland High School, California State University, Northridge |
| Nationality | American |
Family
Accomplishments
| | |
| --- | --- |
| Nominations | Academy of Canadian Cinema and Television Award for Best Screenplay, Gemini Award for Best Performance by an Actor in a Leading Role in a Dramatic Program or Mini-Series, Genie Award for Best Achievement in Direction |
| Movies | Dolphin Tale, Dolphin Tale 2, The Untouchables, American Graffiti, Never Cry Wolf, Starman, Air Bud, The Snow Walker, The Buddy Holly Story, Trick or Treat, Stone of Destiny, The Spikes Gang, Herbie Goes Bananas, Deep Cover, The Hot Spot, Fifty/Fifty, Deep Impact, Pat Garrett and Billy the Kid, Anim... |
| TV Shows | Drive, Da Vinci's City Hall, Streets of Laredo, Left Behind |
Social profile links
Quotes
| # | Quote |
| --- | --- |
| 1 | [on 'Dolphin Tale'] A lot of this is far-fetched kid fantasy. But I wanted to bring an element of magic to it, and let us enter this kids' world where things were a little scary and magical at the same time. I think people talk down to kids too much. I think kids' movies can be great and carry the (weight) and (pathos) of an adult drama. They tend to get short shrift, but the kids are smarter than we give them credit for. |
| 2 | I intend to do things of artistic integrity. I grew up thinking that every movie should be The Graduate (1967). I don't want to do something just because it might be commercially popular--it's more important to do something that has meaning. |
Facts
| # | Fact |
| --- | --- |
| 1 | Cousin of Sheryl Ann Smith. |
| 2 | Nephew of Paul J. Smith and Hank Smith. |
| 3 | Attended Cal State Northridge. |
| 4 | Plays piano, guitar and enjoys writing songs. |
| 5 | Attended Grover Cleveland High School with fellow classmate Morgan Brittany (Suzanne Cupito at the time), They performed in school musicals and dramas such as "The Crucible", "The Pajama Game", "Look Homeward, Angel" and others. They were both strong performers for the school and went on to achieve fame. |
| 6 | Is also an accomplished musician/songwriter, director of stage plays and screenwriter. |
| 7 | Lived for three years in Paris, France, as a youth where his film cartoonist and animator father Frank Smith managed the English-language branch of a French animation studio. |
| 8 | Son of Frank Smith. |
| 9 | 1970 - Was discovered by talent agent while appearing as "Sancho Panza" in high school production of "Man of La Mancha". |
| 10 | 1970 - Graduate of Grover Cleveland High School, Reseda, California. |
Pictures
Movies
Actor
| Title | Year | Status | Character |
| --- | --- | --- | --- |
| Motive | 2015 | TV Series | Rick Wyatt |
| Dolphin Tale 2 | 2014 | | George Hughes |
| Psych | 2010 | TV Series | Roy Kessler |
| Fringe | 2009 | TV Series | Sheriff Golightly |
| Leverage | 2009 | TV Series | Glenn Leary |
| Jack and Jill vs. the World | 2008 | | Carlin |
| Lucky You | 2007 | | Roy Durucher |
| Drive | 2007 | TV Series | Mr. Bright |
| Still Small Voices | 2007 | | Burton Hayes (as Charles Martin-Smith) |
| Law & Order: Special Victims Unit | 2006 | TV Series | Sheriff Bartley |
| Da Vinci's City Hall | 2005-2006 | TV Series | Joe Friedland Mike Franklin |
| The Triangle | 2005 | TV Mini-Series | Captain Jay |
| Left Behind III: World at War | 2005 | | Vice President John Mallory |
| Icon | 2005 | TV Movie | Doctor |
| The Last Casino | 2004 | TV Movie | Barnes |
| Kingdom Hospital | 2004 | TV Series | Earl Swinton |
| Touching Wild Horses | 2002 | | Charles Thurston |
| Dead Heat | 2002 | | Morty |
| Roughing It | 2002 | TV Movie | Platt |
| Ally McBeal | 2001 | TV Series | Mayor Horn |
| Family Law | 2000-2001 | TV Series | Mr. Chilton |
| Here's to Life! | 2000 | | Ned |
| The Apartment Complex | 1999 | TV Movie | Gary Glumley |
| P.T. Barnum | 1999 | TV Movie | Beach |
| Streets of Laredo | 1999 | TV Mini-Series | Ned Brookshire Neil Brookshire |
| The New Woody Woodpecker Show | 1999 | TV Series | Marty |
| Hoods | 1998 | | Gun Dealer (uncredited) |
| Deep Impact | 1998 | | Dr. Marcus Wolf (uncredited) |
| Blackout Effect | 1998 | TV Movie | Henry Drake |
| Dead Silence | 1997 | TV Movie | Roland W. Marks |
| Goosebumps: Escape from Horrorland | 1996 | Video Game | Renfield (voice) |
| Wedding Bell Blues | 1996 | | Oliver Napier |
| The Beast | 1996 | TV Mini-Series | Schuyler Graves |
| The Final Cut | 1996 | | Capt. Weldon Mamet |
| Brothers' Destiny | 1995 | TV Movie | Merriman |
| Take Out the Beast | 1995 | TV Short | The biorobot |
| Perfect Alibi | 1995 | | Franklin Dupard |
| The X-Files | 1995 | TV Series | Dr. Osbourne |
| The Outer Limits | 1995 | TV Series | Spencer Deighton |
| Speechless | 1994 | | Kratz |
| Northern Exposure | 1994 | TV Series | Roger Brewster (Satan) |
| Roswell | 1994 | TV Movie | Sheriff Wilcox |
| I Love Trouble | 1994 | | Rick Medwick |
| L.A. Law | 1994 | TV Series | Dale Hardy |
| Picket Fences | 1993 | TV Series | Lyman Pike |
| Tales from the Crypt | 1993 | TV Series | Colin |
| The Untouchables | 1993 | TV Series | Special Prosecutor Thomas Dewey |
| Partners | 1993 | TV Short | 'Grave Squad' Lawyer |
| And the Band Played On | 1993 | TV Movie | Dr. Harold Jaffe |
| Fifty/Fifty | 1992 | | Martin Sprue |
| Boris and Natasha | 1992 | TV Movie | Hotel Clerk |
| Deep Cover | 1992 | | Carver |
| The Hot Spot | 1990 | | Lon Gulick |
| The Ray Bradbury Theater | 1986-1989 | TV Series | Hugh Fortnum / Douglas Rogers |
| The Experts | 1989 | | Mr. Smith |
| The Untouchables | 1987 | | Agent Oscar Wallace |
| Trick or Treat | 1986 | | Mr. Wimbley |
| The Twilight Zone | 1985 | TV Series | Dr. Dennis Barrows (segment "The Beacon") |
| Starman | 1984 | | Mark Shermin |
| Never Cry Wolf | 1983 | | Farley Mowat / Tyler |
| Gabe and Walker | 1981 | TV Movie | Gabe Peterson |
| Herbie Goes Bananas | 1980 | | D.J. |
| When the Whistle Blows | 1980 | TV Series | Jimmy |
| More American Graffiti | 1979 | | Terry the Toad |
| A Dog's Life | 1979 | TV Movie | Tucker |
| Cotton Candy | 1978 | TV Movie | George Smalley |
| The Buddy Holly Story | 1978 | | Ray Bob |
| The Hazing | 1977 | | Barney (as Charlie Martin Smith) |
| The Life and Times of Grizzly Adams | 1977 | TV Series | Theodore 'Teddy' Roosevelt |
| Baretta | 1976 | TV Series | Harold |
| Law of the Land | 1976 | TV Movie | Dudley (as Charlie Martin Smith) |
| No Deposit, No Return | 1976 | | Longnecker (as Charlie Martin Smith) |
| Rafferty and the Gold Dust Twins | 1975 | | Alan Boone (as Charlie Martin Smith) |
| Lucas Tanner | 1975 | TV Series | Rod Jernigan |
| Petrocelli | 1974 | TV Series | Frankie |
| The Rookies | 1974 | TV Series | Bobby Lewis |
| The Spikes Gang | 1974 | | Tod (as Charlie Martin Smith) |
| The Streets of San Francisco | 1974 | TV Series | Russell Jamison |
| Chase | 1973 | TV Series | Little Bits |
| Love, American Style | 1973 | TV Series | Julius (segment "Love and the Time Machine") |
| American Graffiti | 1973 | | Terry (as Charlie Martin Smith) |
| Pat Garrett & Billy the Kid | 1973 | | Bowdre (as Charlie Martin Smith) |
| Go Ask Alice | 1973 | TV Movie | Jim (as Charlie Martin Smith) |
| Room 222 | 1972 | TV Series | Paul Harris (Harpo) |
| Fuzz | 1972 | | Baby (as Charlie Martin Smith) |
| The Culpepper Cattle Co. | 1972 | | Tim Slater (as Charlie Martin Smith) |
| Monty Nash | 1971 | TV Series | Bellhop |
| The Brady Bunch | 1971 | TV Series | Ronnie |
Director
| Title | Year | Status | Character |
| --- | --- | --- | --- |
| Motive | 2013-2016 | TV Series 3 episodes | |
| Dolphin Tale 2 | 2014 | | |
| Dolphin Tale | 2011 | | |
| Stone of Destiny | 2008 | | |
| Intelligence | 2006 | TV Series 1 episode | |
| Da Vinci's City Hall | 2005-2006 | TV Series 3 episodes | |
| Icon | 2005 | TV Movie | |
| Da Vinci's Inquest | 2004 | TV Series 1 episode | |
| The Snow Walker | 2003 | | |
| Roughing It | 2002 | TV Movie | |
| Air Bud | 1997 | | |
| Buffy the Vampire Slayer | 1997 | TV Series 1 episode | |
| Space: Above and Beyond | 1995-1996 | TV Series 3 episodes | |
| Fifty/Fifty | 1992 | | |
| Boris and Natasha | 1992 | TV Movie | |
| Trick or Treat | 1986 | | |
Writer
| Title | Year | Status | Character |
| --- | --- | --- | --- |
| Dolphin Tale 2 | 2014 | written by | |
| Stone of Destiny | 2008 | written by | |
| The Clinic | 2004 | TV Movie written by | |
| The Snow Walker | 2003 | written by | |
| Never Cry Wolf | 1983 | narration written by - as C.M. Smith | |
Producer
| Title | Year | Status | Character |
| --- | --- | --- | --- |
| Stone of Destiny | 2008 | executive producer | |
| The Clinic | 2004 | TV Movie executive producer | |
| Dead Heat | 2002 | executive producer | |
| Here's to Life! | 2000 | executive producer | |
Music Department
| Title | Year | Status | Character |
| --- | --- | --- | --- |
| Cotton Candy | 1978 | TV Movie composer: songs | |
Thanks
| Title | Year | Status | Character |
| --- | --- | --- | --- |
| Empire of Dreams: The Story of the 'Star Wars' Trilogy | 2004 | Video documentary special thanks | |
| Hoods | 1998 | thanks | |
| Mergers & Acquisitions | 1989 | Short thanks | |
Self
| Title | Year | Status | Character |
| --- | --- | --- | --- |
| Made in Hollywood: Teen Edition | 2014 | TV Series | Himself |
| Made in Hollywood | 2011-2014 | TV Series | Himself |
| 1st Look | 2011 | TV Series | Himself - Interviewee |
| The 11th Annual Leo Awards | 2009 | TV Special | Himself - Nominee: Best Feature length Drama, Nominee: Best Direction in a Feature Length Drama, Best Screenwriting in a Feature Length Drama |
| The Immortal Beaver | 2008 | TV Movie documentary | Tyler |
| Movies That Shook the World | 2005 | TV Series documentary | Himself |
| The Untouchables: Production Stories | 2004 | Video documentary short | Himself |
| The Untouchables: Re-Inventing the Genre | 2004 | Video documentary short | Himself |
| The Untouchables: The Classic | 2004 | Video documentary short | Himself |
| Make the Movie Live the Movie | 2004 | TV Movie documentary | Himself |
| The Making of 'American Graffiti' | 1998 | TV Movie documentary | Himself |
| Guns of the Civil War | 1993 | TV Movie documentary | Hosted |
| The Making of 'Never Cry Wolf' | 1983 | TV Movie documentary | Himself |
| Good Morning America | 1979 | TV Series | Himself |
Archive Footage
| Title | Year | Status | Character |
| --- | --- | --- | --- |
| The Untouchables: The Script, the Cast | 2004 | Video documentary short | Himself |
| Walt Disney's Wonderful World of Color | 1982 | TV Series | Detective Longnecker |
Awards
Won Awards
| Year | Award | Ceremony | Nomination | Movie |
| --- | --- | --- | --- | --- |
| 2009 | Best Director | Palm Beach International Film Festival | Feature Film | Stone of Destiny (2008) |
| 2009 | Audience Favourite | Victoria Independent Film & Video Festival, Canada | Best Film | Stone of Destiny (2008) |
| 2004 | Audience Award | Method Fest | Best Feature | The Snow Walker (2003) |
Nominated Awards
| Year | Award | Ceremony | Nomination | Movie |
| --- | --- | --- | --- | --- |
| 2016 | Leo | Leo Awards | Best Guest Performance by a Male in a Dramatic Series | Motive (2013) |
| 2009 | Leo | Leo Awards | Best Direction in a Feature Length Drama | Stone of Destiny (2008) |
| 2009 | Leo | Leo Awards | Best Feature Length Drama | Stone of Destiny (2008) |
| 2009 | Leo | Leo Awards | Best Screenwriting in a Feature Length Drama | Stone of Destiny (2008) |
| 2008 | BAFTA Scotland Award | BAFTA Awards, Scotland | Best Feature Film | Stone of Destiny (2008) |
| 2005 | Gemini | Gemini Awards | Best Performance by an Actor in a Leading Role in a Dramatic Program or Mini-Series | The Last Casino (2004) |
| 2004 | Genie | Genie Awards | Best Achievement in Direction | The Snow Walker (2003) |
| 2004 | Genie | Genie Awards | Best Screenplay, Adapted | The Snow Walker (2003) |
| 2004 | Leo | Leo Awards | Feature Length Drama: Best Direction | The Snow Walker (2003) |
| 2004 | Leo | Leo Awards | Feature Length Drama: Best Screenwriting | The Snow Walker (2003) |
| 2001 | Leo | Leo Awards | Best Feature Length Drama | Here's to Life! (2000) |
Source:
IMDb
,
Wikipedia